The economic fallout from Covid-19 lockdowns are being felt worldwide. 90% of the world's economies are grappling with recessions that are predicted to wreak more economic havoc than any other event in the last 150 years.
During a recession, consumers cut spending to save money, leading to business profits dropping.  Typically, businesses then cut costs and marketing is usually one of the areas that see a significant drop.  This is a basic mistake if you want to ride out a recession and lay strong foundations for the future.
Why market your business in a recession?
Now a marketing consultancy telling you to spend money on marketing may seems a bit self-serving.
But some of our clients have given us anecdotal feedback on the positive effects of continuing their digital marketing during the Covid-19 lock down.  Several retail companies we work with maintained their digital advertising schedule over lock down.  Once they were able to reopen, they've received plenty of leads and experienced strong sales.
This got us thinking, so we had a look to see if there had been any research done in this area and we came across data from 3 recessions in the 1900s that conclusively show:
Companies who maintain or increase their marketing spend during a recession do better during the recession years
The positive effects last not only during the recession but for several years after as well
The best way we could think of to demonstrate these 2 points are some exciting bar graphs (who doesn't love a good bar graph) so bear with us while we go through the data.
Here are 3 graphs that show the changes in sales index for companies during the recessions of 1920/21, 1974/75 and 1990/91. Take a look and we'll meet below.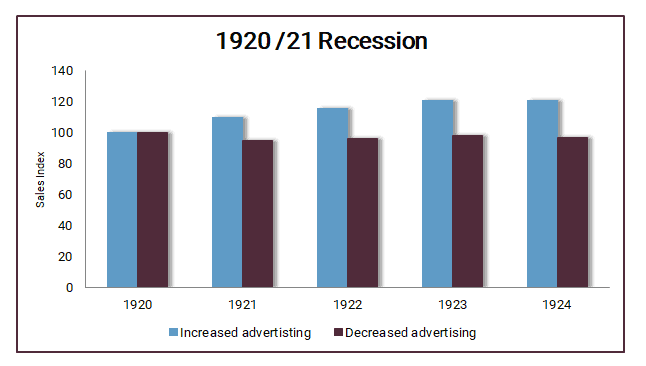 Source: Roland S.Vaile (1927) Harvard Business Review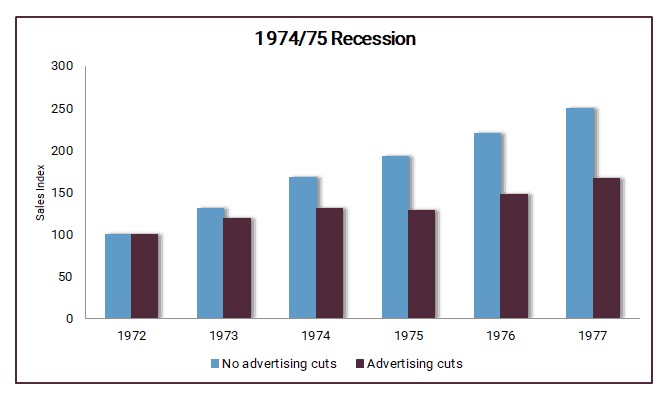 Source: Meldrum & Fewsmith (1979) Associated Business Publications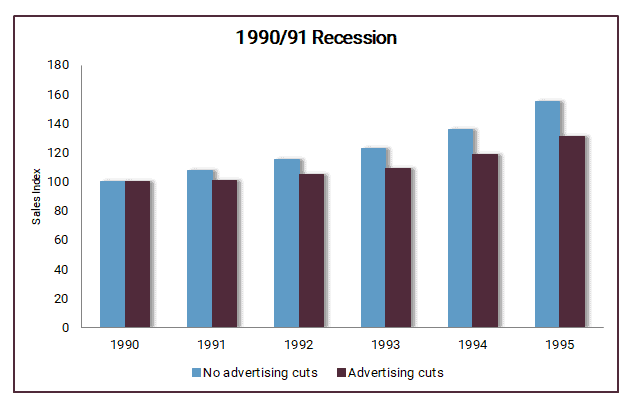 Source: Thomas Kamber (2002) Journal of Brand Management
As you can see, there is a clear trend from all 3 recessions.  The companies that either maintained or increased their advertising spend during the recession years all experienced an increase in their sales index during the recession years.  The positive effects then continued for several years after the official end of the recession and resulted in sales increases that were significantly larger than the companies who cut their advertising during the recession.
What should you do now?
It's only natural to look at cutting expenses when revenue drops.  Everyone knows that to get your books to balance, your expenses need to be less than your income.
This is where you need to stop and fight your natural instincts!
Yes, you can look at cutting costs but think twice before you cut your marketing budget.  You might not be able to increase your marketing spend. But maintaining your pre lockdown marketing budgets should be a priority if you want your business to not only survive the post Covid recession but thrive in the years to come.
Before we go, we'd like to share one of Rosina's (Energise Founder and Brand Director) favourite marketing advice:
Marketing is an investment in your business, not an expense.
Remember, making the right decisions on your marketing spend will increase your return on investment and help grow your business.  If you'd like to talk to someone about how you can use marketing to get your business through the current Covid-19 recession, get in contact, we're here to help.