If you missed our free webinar, this is your opportunity to catch up on all our insights and tips on how to build a successful brand, leverage your competitive advantage and ensure alignment between your brand and your people.
2021 – A time to Breathe, Take Stock and Reconnect with your Biggest Business Advantage
Energise Brand Director, Rosina Webb teamed up with Lisa Mackay, Managing Director of HRtoolkit to discuss:
Understand the key building blocks of a successful business brand.
Leveraging your brand for competitive advantage and growth.
Setting the company standards to maximise alignment between your brand
and your people.
Identifying inconsistencies between your people and your brand, and how
best to address those.
After watching our webinar, you will be able to:
Create or refresh your own business brand with supporting templates and
Engage your team to be brand champions.
Understand the tools available to ensure you have the right people, in the
right jobs, presenting the right image for your business.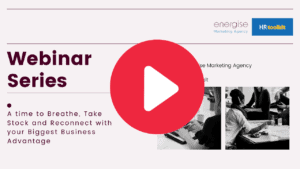 If you'd like to dig deeper into how you can make the most of your biggest business advantage, get in touch with us, we'd love to chat.